Krunal Shah Turning Into Restaurateur With Big Name Remo Dsouza Along With His Partner Kiran Khabad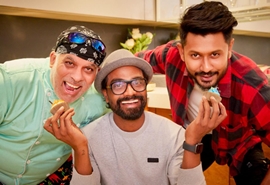 Content for Ministry of Dance
Remo Dsouza -Krunal Shah- Kiran Khabad
Krunal Shah who worked for 7 years in political PR handling big firms, His dream of stepping into the hospitality business took shape when he met Remo Dsouza. "I would keep telling my wife that we have to think of a good concept for the place. When I met Remo sir , he told me we had same wish to open n concept was driven by Remo sir. I thought this was the right time," he shared. The brainstorming sessions between our 3 Remo sir, kiran khabad and me  led to Ministry of Dance, which as Remo sir said, is where the three Ds — drink, dine and dance — come together.
Krunal shah turns into Enterprenaur opening his first
All day Bar Jitchen-Ministry of Dance.
All thanks to Remo sir and Kiran Khabad.