Bollywood Star Studded Launch Of CIRCUS CIRCUS Eatery And Bar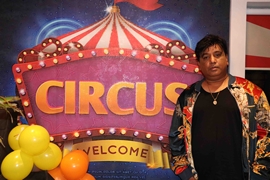 Sunday evening witnessed the presence of top personalities from Bollywood, Television industry amid the mix of elite corporate world and noted celebrities at the grand opening of CIRCUS CIRCUS an eatery on Gulmohar Road in Juhu, Mumbai.
Ravi Singh who has set up his brand of the popular RAVIZ eateries in New Zealand has now stepped in the Indian hospitality business with his flagship brand CIRCUS CIRCUS.  Ravi and Kiran Singh played perfect hosts during the evening by recommending the eatery's specialties individually to the guests personally keeping their eating preferences in mind.
Ravi Singh launched the Raviz Group of Indian Restaurants in Auckland, New Zealand in the year 2000. "Initially the journey was difficult, it felt as if at almost every turn there were obstacles and the universe just wasn't working our way, this is where my values of self-control and honesty played a big role in moving ahead, but gradually the group grew to 12 restaurants," Ravi mentioned.
Girish Wankhede Marketing and PR Head, Rajesh Dhabre  Commissioner for customs and GST, Director Vinod Pande,  Actress and Social activist Nikita Rawal, Director Chandrakant Singh, Actor Rajeev Paul, Anil Kumar Editor Mantralya Times, Actress Leena Kapoor , Actress Adita Jain , Actress Myraa, Actor Nagesh Bhosle, Dr Naavnidhi K Wadhwa and Others were present the event.
With the RAVIZ outlets growing, Ravi Singh and Kiran Singh opened boutique hotels in both New Zealand and India which flourished with tourists and local visitors. "After a good long 20 years run in New Zealand, we decided to go back to our roots with everything we had learnt internationally and start up again in the city of dreams, Mumbai," adds Ravi Singh who credits most of the group's success to his business-cum-life partner. The old adage needs to be altered – There is always a female 'walking alongside and leading the successful male'.
Girish Wankhede of Entity One Entertainment Solutions, the marketing consultants to CIRCUS CIRCUS mentioned, "This is an innovative eatery offering Malaysian, Chinese and North Indian cuisine which is the USP of Ravi Singh's swanky eatery. This is what sets them apart."
Ravi Singh plans to set up the second CIRCUS CIRCUS eatery in South Mumbai very soon.
And this is just the beginning…