SIDHHA Paintings Exhibition By Well-Known Artist Kudalayya Hiremath In Jehangir Art Gallery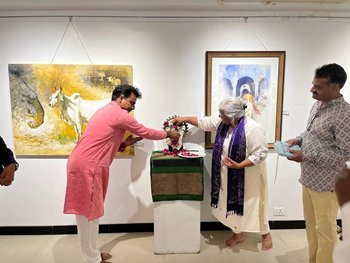 From: 17th to 23rd April 2023
"SIDHHA"
An Exhibition of Paintings by well-known artist Kudalayya Hiremath
VENUE:
Jehangir Art Gallery
Hirji Gallery
161-B, M.G. Road
Kala Ghoda, Mumbai 400 001
Timing: 11am to 7pm.
Contact: +91 94232  53005
This show was inaugurated on 17th April 2023 by Chief Guest Mr. Vijay Achrekar(Eminent Artist & President of The Art Society of India, Mumbai), Special Guests Ms. Pallavi Sabnis(Founder Colaba Art & Joint Secretary of The Art Society of India, Mumbai), Mr. Manojkumar Sakale(Eminent Artist ,Mumbai),  in the presence Mr. Vishwanath Sable (Dean of Sir J.J. School of Art)  Deepak Naphade,  Mrs. Alka Ora and many others.
Since the early times, Indian culture has always given utmost importance to animals. Whether in temples carved sculptures, caves or even in literature animals were included. Thus were born fables, morals stories, folklores and so on.
When I think of animals, my heart reaches out to a childhood memory that has been etched in my mind. We were taught poetry in school, named Punyakoti. Punyakoti was the name of a cow, and her story revolved around truth and sacrifice.
As the story goes, she once promises to return to an old hungry tiger as a prey, after she has fed her young one. Despite her calf and siblings moaning and coaxing her not to return, she does so believing in her virtues. The tiger, moved by her integrity, salutes her and gives up his own life, while freeing himself of the curse he would have invoked for killing such an innocent and truthful cow.
The emotions of this particular poem have stayed with me since then and thus the picturesque scenes of cattle outside temples, the Nandi inside the temple and bullocks dressed up for special festivities have always enchanted me. These beautiful scenes in real time have inspired my current exhibition "SIDHHA" connoting the meaning pure.
Through this exhibition, I have manifested the importance of the cow and the Nandi in our great culture.
——Kudalayya Hiremath
Artist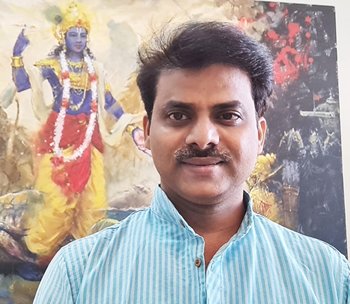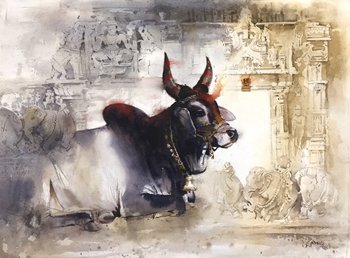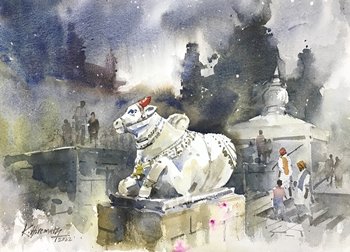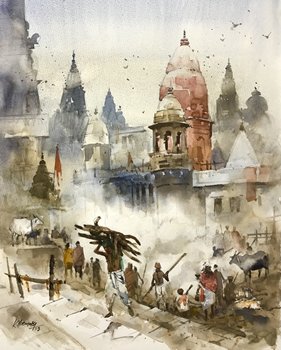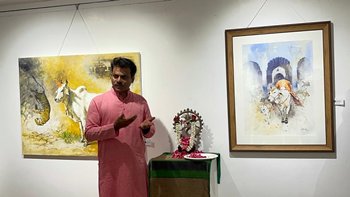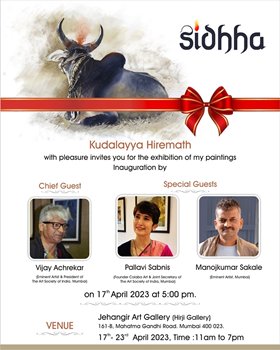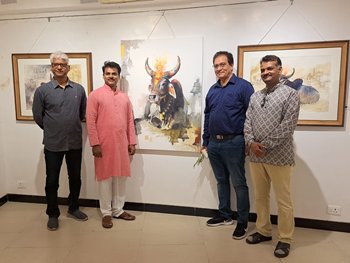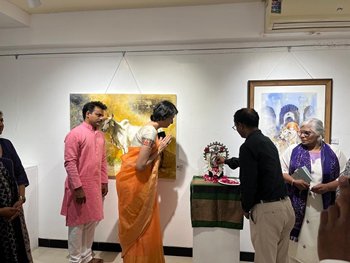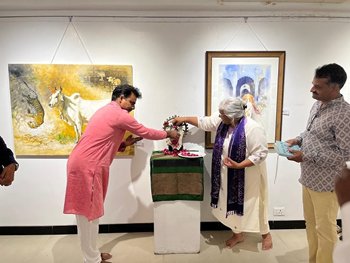 SIDHHA  Paintings Exhibition By Well-Known Artist Kudalayya Hiremath In Jehangir Art Gallery