Expopedia Presents Amalgamation-10 An Exhibition Of Paintings Prints And Sculptures In Cymroza Art Gallery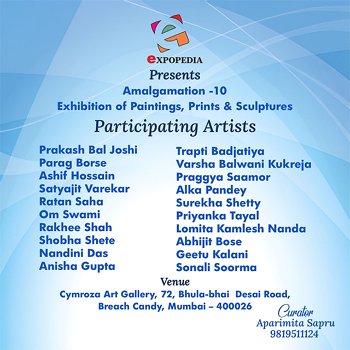 From: 19th to 22nd April 2023
Expopedia Presents
Amalgamation-10
An Exhibition of Paintings, Prints & Sculptures
 VENUE:
Cymroza Art Gallery
72, Bhulabhai Desai Road,
Breach Candy, Mumbai – 400 026.
Timing: 11am to 7pm
Contact: +91 98195 11124
A Mumbai based art promotional institution- Expopedia has showcased a group art exhibition of paintings, sculptures and prints at Cymroza Art Gallery, 72, Bhulabhai Desai Road, Breach Candy, Mumbai 400026 from 19th to 22nd April 2023 from 11 am to 7 pm.
The show was inaugurated by Chief Guest, Mr Hasmukh Shah, renowned Interior Designer and Hon. Chairman, IIID ( Indian Institute of Interior Designers) and Guest of Honor Mr. Gautam Naik, Senior architect and artist . The show has been curated by Aparimita Sapru, artist and curator . The inauguration was done in the presence of participating artists and art aficionados
The various participating artists in the show are:-
Prakash Bal Joshi, Parag Borse, Ashif Hossain, Satyajit Varekar, Ratan Saha, Om Swami, Rakhee Shah, Shobha Shete, Nandini Das, Anisha Gupta,Trapti Badjatiya, Varsha Balwani Kukreja, Praggya, Saamor, Alka Pandey, Surekha Shetty, Priyanka Tayal, Lomita Kamlesh Nanda, Abhijit Bose, Geetu Kalani, Sonali Soorma.
This show will depict the various works in realistic, Semi-realistic, abstract, surrealistic and contemporary as well as modern style in different mediums such as oil colours, acrylics,watercolors, etching, dry pastels and oil pastels, pen and ink, mix media etc and sculptures in bronze, metal relief scraps and mix media in the unique techniques and styles adopted by the participating artists. The works displayed in these show include landscapes, cityscapes, seascapes, beauty of nature, seasonal highlights of nature, historical monuments and their traditional heritage, figurative works showing various sentimental feelings on the faces of young sensitive women in their  perspectives realms of life, Journey of life, Market Place, vignettes of rural and Urban culture, icon of powers and many more thematic peculiarities.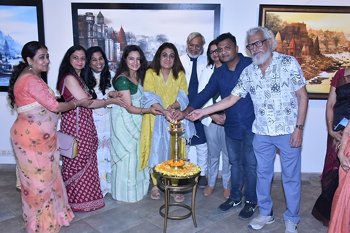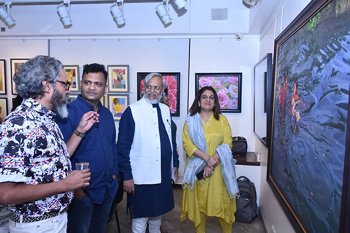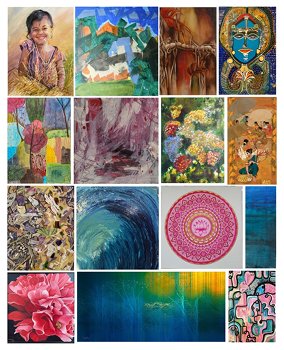 Expopedia Presents Amalgamation-10 An Exhibition Of Paintings  Prints And Sculptures In Cymroza Art Gallery