THE CAVES – Solo Show Of Stonescapes By Well-Known Architectural Photographer Anand Diwadkar In Jehangir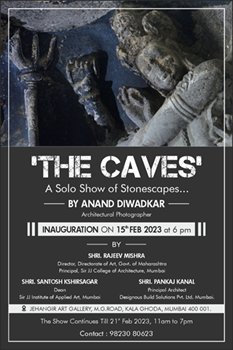 From: 15th February to 21st February 2023
'THE CAVES'
A Solo Show of Stonescapes…
By well-known Architectural Photographer Anand Diwadkar 
VENUE
Jehangir Art Gallery
M.G. Road, Kala Ghoda,
Mumbai 400 001
Timing: 11am to 7pm
Contact: 98230 80623
Email: diwadkar.anand@gmail.com
Anand Diwadkar…
He is an architectural photographer with more than three decades of experience. Many of the design stories photographed by him have been regularly featured in nationally and internationally renowned publications. He has already exhibited his work three times in Pune. He is now going to have his solo show titled 'The Caves'at the prestigious Jehangir art gallery, Mumbai. He will be exhibiting selected 'stonescapes', a work of more than a decade. These pictures are extension of architectural photography and will take the viewers to a spiritual journey from the 'object' seen through the lens to the 'subject' felt with the heart and soul. It's Anand's wish to dedicate this exhibition to the most respected master architect, Shri Christopher Benninger Sir, as he has been an inspiration for him.
The show was inaugurated on 15th February 2023 by Shri. Rajeev Mishra (Director, Directorate of Art, Govt. of Maharashtra and Principal, Sir JJ College of Architecture, Mumbai) in the presence of  Dr. Santosh Kshirsagar (Dean Sir J.J. Institute of Applied Art, Mumbai),  Shri. Pankaj Kanal* (Principal Architect Designous Build Solutions Pvt. Ltd. Mumbai), Architect Shri. Chandrashekhar Kanetkar,  Dr. Douglas John (Eminent Artist) and many other art dignitaries. The show will continue till 21st February, 11 am to 7pm.
THE CAVES – Solo Show Of Stonescapes By Well-Known Architectural Photographer Anand Diwadkar In Jehangir