Record-Man Sandeep Marwah In World Book Of Records In London 4th Time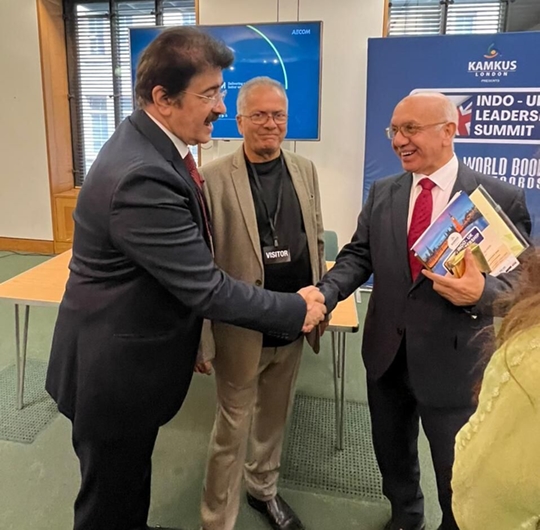 'Never mind what others do; do better than yourself, beat your own record from day to day, and you are a success.' -Wlliam J. H. Boetcker
London: "I extend my heartiest thanks to Diwakar Sukul and the complete team of World Book of Records, London for entering my record in the book and presented me with the certification of the same. This is the biggest satisfaction you can get when your efforts are well recognised at that level," declared an elated Sandeep Marwah, President of Marwah Studios and founder-President of famed Asian Academy of Film and Television, at House of Commons, British Parliament, London.
The prestigious award was presented by the Member of Parliament (MP), House of Commons Hon. Virendra Sharma, a popular British-Indian Labour Party politician and Member of Parliament for Ealing Southall since 2007, in a grand event in the presence of international audience at House of Commons, London.
This time the indomitable and multi-faceted genius Sandeep Marwah has been honoured for being the innovative Director and President of AAFT spanning a period of glorious thirty years and churned out 20,000 students from 145 countries of the world. To his credit, he has also designed 70 different courses from three months to four years and from certificates to degree.
Human potential and skills contribute to personal development in a broad perspective. World Book of Records, London incorporates to be a globally authorised and certified body for recognition, verification and scrutiny of setting or breaking records of individuals, mass activities, group effort and grand working.
"We are proud to be associated with Sandeep Marwah. His passion for media and entertainment industry now needs no introduction. We wish him a very strong international success," said a happy Diwakar Sukul, President UK of World Book of Records.
"It is hard work, perseverance, learning, studying, sacrifice and most of all, love of what you are doing. He who is not courageous enough to take risks will accomplish nothing in life. Don't wait for opportunity, create one for your own self is the right policy," said Virendra Sharma realistically while congratulating Marwah for his incredibly successful journey as he addressed the elite gathering at House of Commons.
How true!
Record-Man  Sandeep Marwah In World Book Of Records In London 4th Time