Celebrity curator Nisha JamVwal presents artist Lata Balakrishna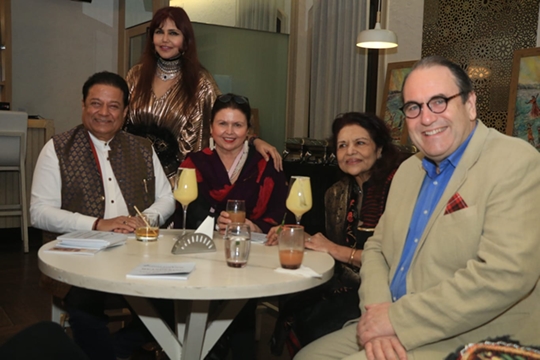 Nisha JamVwal, celebrity columnist, art curator, interior architect and interior stylist presents Lata Balakrishna, a Morden contemporary indian artist whose oeuvre she showcased at the Taj Mahal Hotel Art Gallery that has also exhibited works by the legendary MF Husain and FN Souza.
Says JamVwal "Lata Balakrishna invited me to see her work as many artists do all over the world with the desire that I host a solo show for them. I went without expecting much as I almost always do. It would be an understatement to say that I was moved by what I interpreted as canvasas that speak of a  flow of life with a riot of colored nuances and experience.
The chiaroscuro of of shadow and sunshine, the showers of color in meandering waters drew me into her world, where the title 'meandering' came to me not only because of a travel junkie thirsting to explore a world outside her childhood in Jalandar, but I saw her art as journey exploring her own mind.
Women all over the world face challenges multitasking home and work, ever the champions who go through life traipsing over hurdles  that life poses.
Often employed at work outside and running a home simultaneously bearing babies and rearing them, caring and managing the family needs- the story is deeply etched in the Indian scenario and culture of joint families, arranged matrimony and the ensuing characteristics of all this in the predominantly male chauvinistic society that is India.
In Lata's works I am lost in a kaleidoscope of emotions that play out using symbolic metaphor as tools of expression seeking more from life; breaking free from the regimented routine hurdles and monotonous repetitive mundane."
The show will open with a grand dinner at Recca Kala Ghoda followed by gala high teas that spread over four days – welcoming famed collectors, architects, artists, socialites and other celebrities.
Guests will enthrall in the textured whites and vibrancy in clouds and waters that take us at once into a minds search for the meaning of life.
Celebrity curator Nisha JamVwal presents artist Lata Balakrishna