Film Producer and Amitabh Bachchan Make-up stylist Deepak Sawant who recently attended an event. And he said Something – somewhere happens inside my heart – It is so wonderful after this Meditation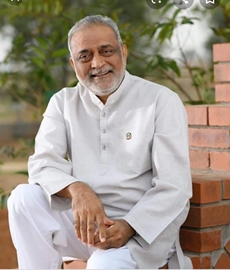 An Historic Event Between Heartfulness Institute and Rashtra Sant Vandaniya Tukdoji Maharaj Sanstha at Gurukunj Ashram, Amaravati, Maharashtra.
As a result of the ongoing relationship between Heartfulness Institute and Tukdoji Maharaj's organisation, Shri Kamlesh Patel (Daaji) was invited to join Rashtra Sant Vandaniya Tukdoji Maharaj's Shraddhanjali annual event at Gurukunj near Amaravati, Maharashtra state, where more than 150,000 followers of Shri Tukdoji Maharaj gathered participating in various programs in his memory.
Reporters from Lokmat interviewed Daaji about spirituality and the Heartfulness Way, in which he said:
"Meditation is a technique to stabilise a fickle mind. The mind first becomes serene, and then it needs  to be given a direction. What do we do after the mind has become settled?  A student will focus on studies, a business man will focus on making money, but the most worthy utilisation is the Realisation of God, to attain Brahma Vidya. Even Lord Krishna says that meditation is an excellent thing to do. It's only through meditation that we can excel in every endeavour."
And later:
"Loneliness is the cause of so many problems. People may be married but they still feel lonely. The loneliness epidemic is society's  biggest problem today. When we are going towards God, we don't face this problem because we see God in everyone. We feel it so there is no need to speak about it. Everyone knows that God is omnipresent, but when this thought becomes reality then something can really happen." He spoke about meditation, saying:
"People have assumed that the mind is our enemy, but, in fact, there is no friend better than the mind. How can we pray without the mind? How can we be devoted without the mind? How can we make resolutions without the mind? We cannot reach anywhere without making resolutions. Without meditation, resolutions will never yield results.
"Everyone wants happiness. Who wants sorrow? No one. When can we be happy? When the mind becomes contemplative. When can we contemplate? When the mind rests on one thing after making a resolution. It becomes focused. And when can the mind become  focused? When it is regulated. And when will it be regulated? When we meditate. Now connect the statements above. Is happiness possible without meditation? In Heartfulness, due to Transmission or pranahuti, meditation becomes very simple. …
. Some have started relating the work of Daaji with that of Shri Tukdoji Maharaj. Overall, Daaji made a great impact on many hearts.
We are coming up with an historical event :-
Celebrating 75 years of our organization
Heartfulness is to live by the heart. It is supported by a set of practices that directly bring us inner peace and love within. The four practices that form the foundation of the method are relaxation, meditation, mental detox or cleaning, and connecting with the higher self through prayer. Together they support awareness of the heart while regulating mental and emotional disturbance and overactivity. After these are mastered, there are a number of additional practices that take us deeper into a heartful way of life.
Kanha Shanti Vanam is a one of a kind place that brings forth a unique blend of a blissfully serene Spiritual Retreat and a well-planned lifestyle supported by modern infrastructure. All seekers of spirituality from around the world are welcome to come and meditate in the purity and sanctity of this divine atmosphere.
Similarly Nikunj and Shalini shared that this time there is an excitement story to share.
Inauguration of  the World's Largest Meditation Hall
Lastly Our Bollywood Industry literally needs this Heartfulness Meditation as we are very sensitive individuals and same time we go though very hard work both in terms of mental and physical stress.
Further, Heartfulness is all about love and this heavenly movement will be a milestone for humanity. Nikunj and Shalini Shekhar.
Breakfree Meaningful Media and Entertainment Pvt Ltd.
What  happens when humanity  meditates together?