Celebrity Guru Vinod Acharya Creating Waves With His Predictions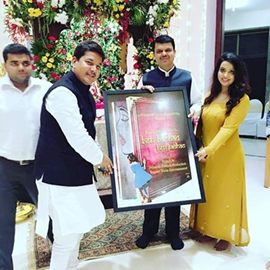 When it comes to Astrology, accuracy in predictions is extremely important. Since this is a science that is accepted both in India and across the world, very few individuals make a breakthrough on the same. One such individual is Acharya Vinod Kumar. He is a native of Allahabad which is known as the hub of learned men in the field of Astrology. Acharya Vinod Kumar was born on the 14th of August. His family is well known for their knowledge and he was inspired by his grandmother to a large extent.
He was placed under the tutelage of the Great Maharishi Shri Shri Mahesh Yogi Ji. Here he learned all the nuances of Gemology, Panchang, Vastu, Numerology and Astrology. He was also educated in the art of reading horoscopes and understanding the timeline of different events in a person's life as charted by the stars during his or her birth.
Once he was well versed in the different aspects, he sought the blessings of his teacher to share his knowledge with those in need. He started his mission in the year 1990 with the specific aim of bringing a change in the common man's life. His ability to study the situation and analyze the same in a short period has helped many people to overcome the hurdles placed due to planetary positions. His success rate has ensured that people come to him and help him in his mission long after he has solved their problems.
He has a very pleasant personality and deals with people in a calm and assured manner. He ensures that the people who consult him are never alarmed by his predictions and are able to overcome the same in a smooth manner.
Past channels worked with.:
He has given his expertise in a number of different shows which was coming at Sanskar, Divya TV, Sony Pal, Sab TV, UTV Bindaas, Zee Jagran, Darshan24, Shakti TV, Sadhna, Shraddha TV and many more.
He has also setup the Adyatmik sewa mission . This is a Non Government Organization or NGO that looks after those forgotten by society. They provide assistance to those who are destitute, those suffering from mental health issues, those who are unwell, those without any home and even those elders who have nowhere to turn to in their old age. The mission takes care of every aspect like medical care, rehabilitation and food .The focus is to provide them with the help required while restoring their dignity. So please contact him for any issues faced in your life. This can be financial, marriage related, job related, health related or every family related. You will never walk away disappointed.
He is achieved Doctrate in Astrology from European university many bollywood celebrities and politicians  takes advice about their carrier  from Guru jee DAILY PANCHANG.