Actress Nikita Rawal Celebrates Her Christmas Week With HIV Positive Kids An Effort To Give Smiles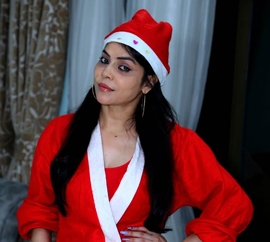 Famous bollywood actress and performer Nikita Rawal is an active participant in politics and is the founder of Astha foundation, an NGO which is aimed at providing facilities , necessities to the under privileged kids and make their lives better .
Nikita Rawal, a well known face in the Bollywood and TV industry who is a model cum actress has acted in many music videos and has given the terrific performance in each . She has played different roles in all the videos and has justified each one of them tremendously . She has always got fit in the role so well and made it look real that it becomes difficult to say that she is just acting on the screen . Nikita has brought life to every video , song, movie, serial etc. which brings emotions, care and reality of life .
Nikita is a firm believer of God and says that Christmas means "God is with us…Always" it's all about spreading love and happiness, humanity.
She takes it as an opportunity where she witnessed and spent time with the children who are HIV positive , where she wanted to spread smiles on their faces on this festival of love and joy of giving . With an another motive in mind to spread awareness about this disease so that children don't suffer because of the same , She literally became a Santa in the event by Astha Foundation where she distributed gifts to the children and prayed to God to give her immense opportunities like this in future so that she be the medium to spread cheer whoever needs it.

To mention, Nikita has acted in Garam masala , Mr.black and white with Arshad warsi and Sunil Shetty , Happy birthday , Amma ki boli , Cute Kamina and more.