Mrs Krishna Sainanee – Director Bharat Sunandaa's Beautiful Music Video YAKIN Getting Great Response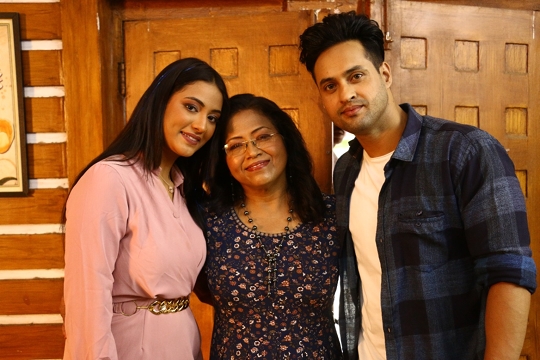 Singer Mrs Krishna Sainanee's beautiful music video "Yakin" is becoming popular as soon as it is released on the official channel of KS Films India. The concept of this song is by Bharat Shripat Sunandaa and Deepti Bansode. The song is getting a lot of views and its figure is increasing. The album's Singer is Mrs Krishna Sainanee's and rapper are Mr J & SBK. The lyrics of this splendid song are penned by SBK & Mr J, music composed by Minhas Beat. It was recorded at Tune Up Studio Thane. Programming is done by Minhas, SBK, Mr. J. The producers of the album are Mrs Krishna Sainanee and Bharat Sunandaa in association with Trishul Film Company and Content Provider. It's co producer is Prakash Sarjerao Sadavarte (KS Films India). Bharat Sunandaa has directed this video.
Presented by KS Films India song yakin features Mrs Krishna Sainanee as the lead artist. Also Ummer Khan and Alfiya Sheikh are also seen in the video. Ahan Nagesh Sawant, a child artist in the video, has also done a better job.
Let us tell you that the great film "Future Fight" made by writer and director Bharat Shripat Sunandaa has been very much discussed. Producer Mrs Krishna Sainanee's film is being highly appreciated in the country and abroad. Soon this film will also be available on the official YouTube channel of KS Films India. You can still see some glimpses of the movie.
Director Bharat Sunandaa said that "Yakin" is a lovely song on a mother's love and her feelings. Mrs Krishna Sainanee has not only sung this song very beautifully but she has also acted very well in it. At the end of the song, a heart-touching message has also been given by director Bharat Sunandaa.
Mrs Krishna Sainanee told that when director Bharat Sunandaa and Deepti came to her with this concept, the idea of ​​this song was very different, I liked it and hence I associated with this music video.
It is worth mentioning that the producer Mrs. Krishna Sainanee has been the Senior Executive Marketing Officer of Bharat Heavy Electricals Limited, Mumbai.  Director Bharat Shripat Sunandaa has been awarded the Dadasaheb Phalke Golden Camera Award 2020.
Let us tell you that this team is coming soon with another experimental song "Saae Jahan Se Acha Fir Se". Presented by KS Films India, this song is directed by Bharat Sunandaa. This song is being brought out in association with Madhu Gunjan Rabindra Sangeet Music Welfare Association (Mrs. Sharmila Neogi). Produced by Trishul Film Company and Content Provider Bharat Sunandaa, the song is co-produced by Prakash Sarjerao Sadavarte.
Mrs Krishna Sainanee –  Director Bharat Sunandaa's Beautiful Music Video YAKIN Getting Great Response