Bhumi Pednekar And Priya Agarwal Hebbar Launch The Water Bowl Challenge For Mumbai's Stray Animals
Award-winning Actor & Climate activist Bhumi Pednekar graced the event at Father Agnel Ashram as the Chief Guest along with Priya Agarwal Hebbar, Anchor, TACO & Non-Executive Director, Vedanta
Over 650 students took part in the #WaterBowlChallenge for strays
Mumbai, May 12, 2023 –  With the onset of summer and rising temperatures, Vedanta's The Animal Care Organization (TACO) together with Climate Warrior launched a water bowl challenge along with a walkathon for the welfare of the city's stray animals. The event, which saw the participation of over 650 people, was inaugurated by actor Bhumi Pednekar, also the founder of Climate Warrior, and Priya Agarwal Hebbar, Non-Executive Director, Vedanta and Anchor, TACO.  Hosted at the Father Agnel Ashram in Bandra, the event brought together animal lovers, particularly students, from the city to build awareness on the need for an ecosystem of well-being for all animals.
As part of the water bowl challenge, the participants were encouraged to place water-feeding bowls for stray animals and birds. In addition, an animal health camp by a group of veterinarians was also conducted to offer health check-ups to strays and pets. Bhumi Pednekar, a champion for several social causes, was seen interacting and motivating the participants throughout the walk. The cause was also supported by Agnel Education & Social Development Foundation and TACO's implementation partner, YODA (Youth in Defence of Animals).
Expressing her delight on this noble initiative, Priya Agarwal Hebbar, Anchor, TACO, said "We are thrilled to see young animal lovers pour out in large numbers today for the TACO Water Bowl Challenge and Walkathon. I am grateful to have Bhumi Pednekar and her sustainability campaign Climate Warrior join the cause. India has a long history of happy co-existence between humans and animals. At TACO, it is our endeavour to follow the spirit of this great legacy and transform the animal welfare ecosystem with the principle of 'One Health, One Planet' at its core.
Echoing her opinion, Bhumi Pednekar, renowned Actor, National Advocate for UNDP India for the SDGs and the founder of Climate Warrior Campaign said, "The health of humans, flora, fauna and the well-being of our planet are linked. Climate change threatens the lives of animals and yet the need for animal welfare remains largely neglected in sustainable development. Devoting time towards improving the lives of animal is not just a responsibility, it should be a way of life. I am delighted to join Priya Agarwal Hebbar and TACO in this endeavour. Let's all join hands to create a world where all animals are treated with compassion, respect, and love."
The 'Water Bowl Challenge' is aimed at encouraging people to provide drinking water and food to stray animals and birds, during the rising temperatures. As part of this initiative, participants are invited to take part in a challenge on social media wherein they will post a selfie with the feeding bowl, tagging TACO, and nominate their acquaintances to take the challenge forward by posting similar pictures while feeding strays and /or with water bowls. The objective of this challenge is to inspire everyone to exhibit kindness and compassion towards animals and birds while creating awareness about the cause.
Priya Agarwal Hebbar with Bhumi Pednekar at TACO Walkathon
---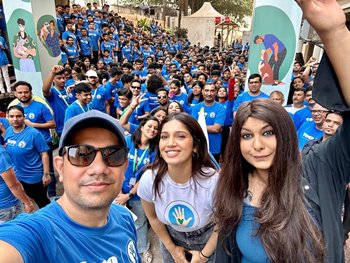 (LtoR) Mukul Chhatwal (External PR Head at Vedanta) Bhumi Pednekar (Actress) Priya Agarwal Hebbar (Anchor TACO)
---
Bhumi Pednekar And Priya Agarwal Hebbar Launch The Water Bowl Challenge For Mumbai's Stray Animals