US-Based Awesome TV Celebrates First-Of-Its- Kind Event Celebrating Prs – Journalists And Media In India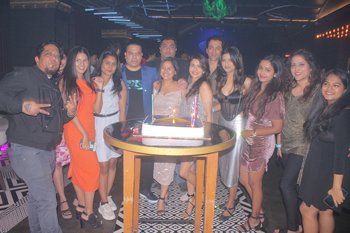 US-based media conglomerate Awesome TV recently threw in a lavish bash to celebrate every niche of the media sector.
From stalwarts of the Public Relation department to the bigwigs of the Journalism world, Awesome TV's one-of-a-kind party saw them all. Many popular faces from the glamour world too marked their gracious presence. From veteran star Sudha Chandran to the heartthrob of millennials Niti Taylor, from the very iconic journalist cum radio jockey RJ Divya Solgama to the extremely popular RJ Alok, the party saw the who's who of the media fraternity.
Talking about the grand bash held in Mumbai, Awesome TV's Founder and Creator, Mr. Ritesh Parikh stated that he believes in the entire media being one big family and that every member of the family should be appreciated for their hard work. "Unless every member of a professional family feels appreciated, their work and achievement is celebrated, it's not possible to grow heaps and bounds," said Mr. Parikh. "Especially if the working sector is of the media, which is known for working round the clock, seven days a week, the appreciation should be all the more loud and prominent," he added while elaborating on the idea behind the grand media bash.
"Awesome TV would like to thank everyone for supporting us in becoming the most engaged, followed and watched South Asian global network from New York," said Ritesh further thanking the channel's loyal viewers and also the media.
"Come join us on this simply awesome journey," he added.
Expressing immense gratitude to the media for their endless support, Awesome TV's India Head, Mr. Ritvik Asthana said, "We are thankful to all the PRs, journalists, and celebrities who have contributed to Awesome TV. It would not have been possible without their endless support."
Veteran star Sudha Chandran, who is currently seen in Ekta Kapoor's superhit Naagin series on Indian Television, couldn't stop praising Awesome TV.
In a quick tete-a-tete with the digital channel, Sudha said, "I am very happy to see Awesome TV grow heaps and bounds. I wish the entire team all love and luck and a huge congratulations to them too!"
The party that was supported by WHCC & Sattie Persaud
saw actresses Roop Durgapal, Shiwani Chakraborty, Tina Philip, Niti Taylor, Sudha Chandran, Bhavika Sharma, renowned Journalists Nishant Bhuse and Waahid Ali Khan amongst many other popular faces.
Established in 2013, Awesome TV proudly boasts of being on one of the top online platforms, keeping their viewers updated with the latest entertainment news.
The platform caters to audiences all across the globe, covering over a 100 countries with millions of viewers. The 10-year-old media conglomerate was established with a clear vision of focusing on not just simply creating and distributing content, but also on making it entertaining, informative and inspirational.
For the uninitiated, Awesome TV attained great success during the US Presidential Election where it created a national promotional campaign for USA Presidential Nominee Joe Biden / Kamala Harris.
The company also launched multiple informative shows to educate and inspire audiences during the unfortunate COVID-19 pandemic. Awesome TV was chosen as the official media partner for various local, national and international events.
From providing breaking news and exclusives from Hollywood to Bollywood and everything in between, Awesome TV carved a niche for itself in the world of digital news.
The company has partnered with Jams TV, The Wrap, Comfy TV and many more for Hollywood Content and has also created multiple promotional activities for independent entertainment companies.
Awesome TV also launched the 1st South Asian mainstream USA digital radio station alongside kickstarting Awesome TOP Model – International Fashion Portal. It was also the Official Media Partner for IIFA. Also extremely popular as an International Fashion Platform, *Awesome TV was also responsible for creating and hosting our own New York Fashion Week shows.
Awesome TV proudly boasts of being the most affluent online platform in North America and around the globe. It has successfully grabbed many news headlines around the USA and also globally for its top notch accolades.
US-Based Awesome TV Celebrates First-Of-Its- Kind Event Celebrating Prs – Journalists And Media In India