Parvez Damania Transforms Passionate Photographers Into Pandharpur Pilgrims With Purpose This World Tourism Day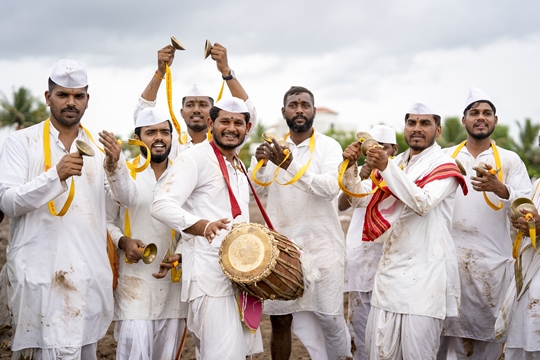 This World Tourism Day, Art collector Parvez Damania and Ratan Luth bring to you a fabulous photographic capture of the Pandharpur Wari through the lens of some of India's most acclaimed photographers titled 'The Great Pilgrimage- Pandharpur'
The Pandharpur Wari boasts of an 800-year-old tradition of faith with over a million pilgrims or Warkaris travelling every year on the onset of monsoon for over 21 days on foot to reach the Vithoba temple.  One witnesses men in Gandhi caps, women in colourful saris with tulsi pots on their heads, gallant horses leading the dindis,  saffron flags, palkis,  the devout sound of veena, mridanga, dholki and chipli, the energy of the fugdi – the beauty of simple people travelling after sowing the seeds for the season  dancing and singing their way to Pandharpur on foot braving the sun and the rains in joy to meet Lord Panduranga.
This flow of humanity in an unparalleled pilgrimage that breaks the barriers of caste, creed, rich and poor, may have been covered in parts but never in its entirety by photojournalists.
Art collectors Parvez Damania and Ratan Luth bring to you a fabulous photographic capture of the Pandharpur Wari through the lens of some of India's most acclaimed photographers titled 'The Great Pilgrimage – Pandharpur'.
"The Wari is one of the most ancient and powerful pilgrimages on Earth. I travelled the Wari a few years back and brought home the mesmeric moments. They haunted my mind and I spoke to Ratan Luth and together we got a team of the best photographers, and walked with the photographers on foot for ten days to capture the essence of the Wari," elaborates Parvez Damania.
Revered photojournalist Padma Shri Sudharak Olwe, ace Lensmen Shantanu Das, Mahesh Lonkar, Pubarun Basu, Mukund Parke, Saurabh Bhatikar, Dr. Sawan Gandhi, Pranav Deo, Rahul Godse and Dhaneshwar Vidya, along with Prof Nitin Joshi, Deepak Bhosle and Shivam Harmalkar from Symbiosis University formed the team that captured these timeless moments of faith, legend, history and tradition of the Warikars in their frozen frames. The Ministry of Tourism, Government of Maharashtra joined hands to make this leap of faith possible.
The 21-day Padyatra is no easy journey and the yatra to capture the Warkaris' leap of faith was no easy journey either. "The colourful adventure made each of us mentally strong and fearless but the images that allowed real emotions to come through with the absence of posing and in available light have created an amazing photodocumentary that captures people living every moment," elaborates Damania.
'The Great Pilgrimage – Pandharpur', curated by Parvez Damania and Ratan Luth in association with the Directorate of Tourism, Government of Maharashtra, is on at the Piramal Gallery of Photography as an Art Form, NCPA, from September 28- 30, 10am to 8pm. The launch will be on World Tourism Day, September 27 evening at the gallery.
Parvez Damania Transforms Passionate Photographers Into Pandharpur Pilgrims With Purpose  This World Tourism Day