Model – Actress Vandana Bhardwaj's Ambitious Music Album Feed The Hungry For Needy Kids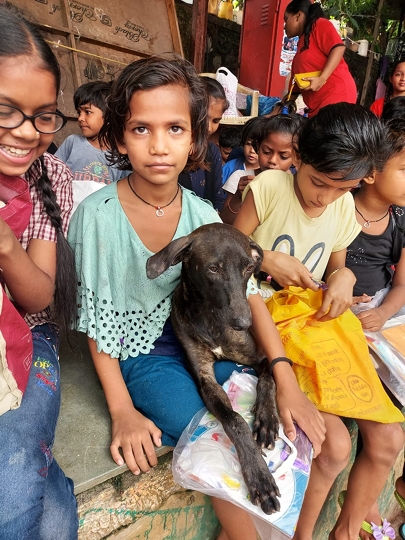 Where there's a will there's a way. And who better knows it than Vandana Bhardwaj, the pretty model, superbly talented actress, an unpretentious philanthropist heading My Helping Hands for hapless kids and animals and a successful businesswoman in her own rights as Director and Spokesperson – B2C Network- Marie Claire Salon, India, co-founder and Director- United Vegan Pvt Ltd. (Charlie Chaplin LaVegano et al)!?
Vandana has just released a heart-touching emotional music video album titled, Feed the Hungry  (A song by Acolade with  street kids).
You wonder what motivated or inspired Vandana to make this beautiful musical video album..!!
"I made a song "Hamdard ho ja re". I always wanted to produce such a song which is real, in natural flow and not just figment of imagination. As a social worker, I feel it's imperative to inspire others and music is the best possible way to reach out to many," says Vandana as a matter of fact.
Is it because that Vandana is already in the social works field which helped her to emote more naturally in this music album?
"Look, the children, elderly people and animals are part of our NGO. So it came out naturally like a daily routine," says Vandana.
How did Vandana train the kids for the album as acting is a different ballgame altogether. "The kids belong to my NGO, so it's all real," pat comes the reply
About Vandana's experience while shooting for the album any particular moment  which made her more emotional, she says, "Seeing the pure joy in the eyes of kids always makes me emotional and I feel that I am in the right path. Serving animals is also close to my heart."
When asked whether any othere musical venture or other projects in the pipeline that could bring the issues being faced by the underprivileged children, old people and animals to the fore, Vandana  says, "Ofcourse yes. I'll be creating new songs after every few months."
How is Vandana balancing between her hectic business schedules and social works, Vandana says, "Social work is always close to my heart and in business we have lot of helping hands..It's a team-work which makes it easy for each one of us. And yes, I keep juggling from one work to another. And I don't feel tired. I relax myself by helping others."
Always a straight forward girl with sincerity of purpose and inherent dynamism, Vandana Bhardwaj is a multifaceted genius to be watched keenly in coming days!
MODEL-ACTRESS VANDANA BHARDWAJ'S AMBITIOUS  MUSIC ALBUM "FEED THE HUNGRY" FOR NEEDY KIDS..!