Jay Patel – Abhishek Dudhaiya's Multiple Award -Winning Short Film I'M GONNA TELL GOD EVERYTHING Conveys World Peace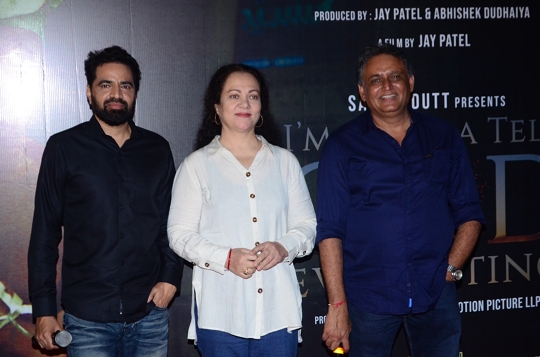 A special screening of heart-wrenching Hollywood short film 'I'm Gonna Tell God Everything' that is presented by Sanjay Dutt and produced by Jay Patel and Abhishek Dudhaiya, was held at PVR Cinema in Mumbai for its special guests and journalists.
This film based on true events left the film critics speechless. Present on the occasion were producers Jay Patel and Abhishek Dudhaiya along with actress Mandakini, music composer Rashid Khan, Pawan Shankar, lin laishram, Jahangir khan, who were deeply moved by the film that is is based on the real story of a 5-year-old boy from Syria, who died in hospital during treatment. This lil boy's last words were very touching – I'm Gonna Tell God Everything and he meant – "I'm gonna tell the Almighty everything."
A video of Sanjay Dutt was shown before the screening of this short film, showing Dutt launching the poster of the film and spoke that there is a need for peace in the world and this is the particular message that the film portrays.
The multiple award winning film I'm Gonna Tell God Everything is co-produced by Abhishek Dudhaiya who produced and directed Bhuj – The Pride of India with Ajay Devgan. He said that women and children are the most affected by war, although they have nothing to do with the war, adding, "The film is based on true events, I was moved by the last words of a child and so we decided to tell his story through a short film."
Winner of the Best Short Film award at the Norway Film Festival, 'I'm Going to Tell God Everything' is written by Katherine King and produced by Jay Patel. This award winning short film also has the honor of being selected for a special screening at the 50th International Film Festival of India (IFFI) in Goa.
Producer Jay Patel said, "I see the world as one big community, and the art of storytelling can connect people with one another. I want to tell stories that haven't been heard before. Many have tears in their eyes at the end of the film. I will raise such issues in the world through the film."
Abhishek Dudhaiya announced that the film will be released on YouTube on October 2, on the occasion of Gandhiji's birthday, a priest of non-violence and peace messenger.
Jay Patel, Abhishek Dudhaiya's multiple award -winning short film I'M GONNA TELL GOD EVERYTHING conveys world peace