YAARO… WE ARE THE BEST – 2500 Students Watch Trailer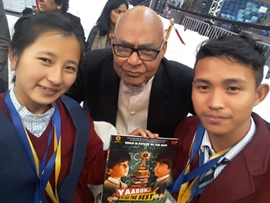 More than 2500 students alongwith their parents enjoyed the trailer in the Pareeksha Pe Charcha in Modi Ki Pathshala at Talkatora Stadium on 20th Jan. of Osso International Entertainment's and Dharmesh Pandit presentation YAARO…WE ARE THE BEST, a film surrounding around school children has been passed by the Censors without any cuts for Universal exhibition. The film is all set for an early release. The film is produced by Umesh Mishra ( who has worked as executive producer with K.C. Bokadia in over 35 films ,Tips Films,Manmohan Shetty etc.who is in the film industry since 45 years) and Dharmesh Pandit and is written and directed by Sunil Prem Vyas.
Cast: Raj Zutshi,Dipannita Sharma Atwal,Anang Desai,Joy Sengupta,Supriya Karnik,Sulbha Arya, Virendra Saxena,Prasad Reddy,Yash Ghanekar,Sameera Jadhav,Jyoti Gauba,Vijay Kashyap,Brajendra Kala and Vikram Gokhale alongwith many school children. Concept & Story idea: Dharmesh Pandit. DoP: Anil Singh.Music: Priyesh Vakil,Sushant Kishore.Style Bhai.