Label Bani Pasricha New Photoshoot Is A Sight For Sour Eyes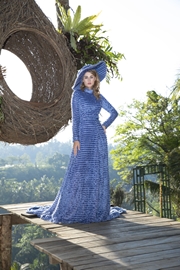 Bani Pasricha, the Fashion Designer who hails from Indias Capital, New Delhi. has been spreading her label across boundaries and the label's*  name after her own name. She acquired knowledge of Fashion from the London College of Fashion. Bani has catered various events to name a few Cannes 2019, India Beach Fashion week, India Fashion Week-London, Popstreet Delhi, India Runway week, Runway Bridal and many others.
True to the statement she creates 'art pieces' which do not fade away with time and her recent photoshoot in Bali portrays the same.
Scintillating outfits in hues of blue and red are a statement of elegance & charm in its own way
"I love creating timeless art with fabrics "- Bani Pasricha