Deputy Mayor Promila Gaje Kabalana unveiled the painting exhibition – Bahara Notes From Spring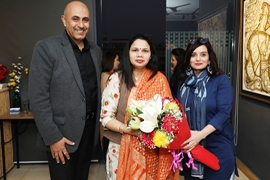 Gurugram25/01/2020  – A 20-day painting art exhibition "Bahara Notes from Spring" was started at Gallery 5 located at DLF1 Golf Course Road in the city. In which the artworks of eight artists are displayed. Deputy Mayor Smt. PromilaGaje Kabalana inaugurated the exhibition.
Deputy Mayor Smt. Promila Gaje Kabalana said that this is the best way to welcome Basant Ritu. In all the paintings of artists, the aspects of our lives are mingled. I congratulate all the artists for their amazing artistry.
Galerie5, the freshest addition to the millennial city's vibrant art life, is pleased to present a group exhibition of works featuring its gallery artists.
The artwork on display had included work by some of the finest contemporary Indian artists – Tejinder Kanda, Jitender Dangi, Farhad Hussain, Jagmohan Bangani, Niren Sen Gupta, Bandana Kumari, Bimmi Khan, Santosh Kumar Rautray and Shailesh Mohan Ojha.
The show is an ode to spring and celebrates colours, warmth and new life. Masters of their techniques, the artists bring alive facets of daily  life – be it through the detailed strokes of Tejinder Kanda's spatula capturing Indian street vignettes;  Farhad Hussain's quirky, humorous figures in solid colours or Jagmohan Bangani's brilliant yet sublime word sculptures ofKabir's couplets and mantras from Indian scriptures.
Bahaara  notes from spring'will run through February, 15 2020. Galerie5: A26/5, Golf Course Road, Gururgram -122002 (Near DT Mega Mall).