Creativity Art Gallery Presents AAGHAZ the new beginning Art Exhibition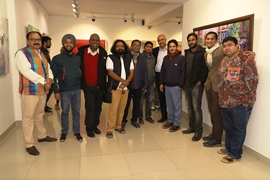 It's been almost two decades since the Creativity Art Gallery being in existence and doing its art activities continuously. Either emerging talents or established artists have been represented by the gallery during this long span of time. The gallery has not only become a new platform for the hidden artist to showcase their mastery but also provide its space for the experiments of the artist's likes.
Title "AAGHAZ, the new beginning" of the group exhibition is basically taken from Japanese word SAKURA (the cherry blossom), which is a symbol of new beginnings and a fresh start. The show is embracing a new perspective—a fresh look at the future and all the wonderful possibilities it holds and therefore the gallery is showcasing twelve artists in this group exhibition. Though, few artists have a long association with gallery, most of them are being represented first time. The title itself makes an inner relationship. Now a days, artists are increasingly choosing to represent themselves and sell works as individuals instead of seeking representation by art galleries, its indeed enormous efforts to choose and collect these artists from all over the country in one platform. Each artist is known for his unique technique and style, which is somewhat missing and lacking in the mushrooming emergence of artists in the present time. Technique always involves with a long implication of practical skills and therefore the artists are chosen very much in this concern.
Bhaskara Rao Botcha says "The Tree" has remained constant as part of my oeuvre over the years in my career as a painter, this is because of deep and innate bond with trees  that I cherish , which grew along with me in a rural Indian hamlet. Further, Tirupati Rao Addepalli says the painting image is an endeavor to depict the human act of believing in or attempting something whose existence or outcome cannot be known and ​Srinivasa Rao Potelu makes his point as a painter that he has been working on "Abstract Painting" since 1996 with extravagant fondness to paint metascapes, trying to depict something being unrecognizable to the physical world. One of the most significant artist Chintan Zalavadia's works represent the sense of humor, satire, narrative and desire of the human relationships and Manish Chavda the other participants of the show has his unique approach to develop his artworks by coating the colour on the canvas surface first and later de-coating colours to reveal the hidden images of his mind. He says "Transitions are so subtle that they are hardly noticed until they are gone. ​​The bronge sculptures of Srinivasa Reddy Bolla resemble oval shaped head which are portrayal of human intellectual and spiritual powers. The heads are significant in his works. He says, the head itself comes from a basic form of egg, which itself signifies creation.
In addition to that Satya Sai Mothadaka says every artist seeks inspiration from surrounding world or seek visual raw material in experience of the world. In country like India, one of the richest sources of inspiration has been and continues to be the repertoire of motifs and symbols collectively defined by the term tradition. Thus most of my works interprets traditional religious iconography and engages with the objects and traditions of Indian mythology. The artist Tejinder Kanda has a very long association with gallery and his rhythmic expressions on canvas captivate the ambiance of life with all its trappings, with people busily engaged in their daily routine and brimming with confidence, Farhad Hussain's paintings are a mélange of vibrant colours and dwell on the human figure. His works are narrative with each figure interrelated to the other. Though, on a quick glance, one may feel awestruck by their presence, each figure is an integral part of the work. Furthermore, texts, words and scripts from verius langauges are an internal part of Jagmohan Bangani's art practice. For him the sound take the shape of words, words overlap in language and meaning until it becomes an experience in itself and surcharge of emotions.
Kerala-based contemporary artist, Pradeep Puthoor's art is dedicated to a fantastical world that is entirely his own. Strange creatures and imaginatively designed buildings and structures, colourful and playful, clutter his canvas. One the other hand Rinku Chauhan experiments with fresh materials every time, to surprise himself with un-introduced character of the medium as well as the form to experiment with materials. Every time he tries to use a material whose character is somewhat new to him.
The new year always brings a festive season to the art scenario in the capital city of the country, especially during the first two months of the year. All galleries become very much active to curate and exhibit their artists. India Art Fair could be a possible reason as most artists, art galleries and art conousiers trevel to Delhi for visiting the art fair. Although, most galleries are very much close to represent only their artists during this period of time, either in Art Fair or their gallery space, Creativity Art Gallery in this regard is very open to represent these twelve artists all over the country (Uttarakhand to Kerala) with whom most artists are exhbiting first time with gallery.
The director of the gallery Mr. Shekhar Jhamb says that he is very much in willing to pramote the art practices which are not only technically wise but also showing sincerity in their respective areas.
Name of The Show: AAGHAZ, the new beginning
Date:   January 29,  to February 29th 2020
Time: 11am To 07pm
Vinue: Creativity Art Gallery 06, Gf,Hauskhas Village New Delhi
Contact : 011-46072799 (O) |
Participating Artist:
Bhaskara Rao Botcha, Chintan Zalavadia ,Farhad Hussain, Jagmohan Bangani, Tejinder Kanda, Manish Chavda, Srinivasa Reddy Bolla. Pradeep Puthoor, Rinku Chauhan, Satya Sai Mothadaka, Srinivasa Rao, Tirupati Rao Addepalli