Asian-African Leadership Forum organized a Leadership Award in the National Capital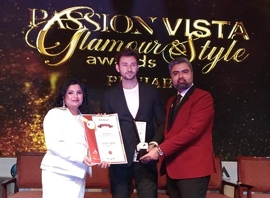 The Asian-African Chamber of Commerce & Industry (AACCI) organised their flagship summit- 2nd Asian-African Leadership Forum in New Delhi. The Forum consisted of a grand summit with amongst diplomats from the two continents.
The AACCI forum witnessed the presence of high ranking diplomats who discussed much about the potential of two continents and different areas of cooperation. The distinguished personalities present were H.E Mr. George Mkondiwa, H.E Ms. Grace Akello, High Commissioner, Uganda together with Nigerian High Commissioner H.E Maj. Gen. Chris Sunday Eze and H.E Mrs. Faduma Abdullahi Mohamud, Ambassador, Somalia. Mr. Md. Shafiul Alam, Councellor, Bangladesh High Commission in India was also among the speakers and attendees.
The eminent dignitaries signified the crucial role of Asia and Africa in the 'new world order' and talked about the vibrant opportunities of trade and investment in Africa. They also emphasized on the developing infrastructure and abundance of natural resources in Africa
Dr. G.D Singh, Founder and Chairman of AACCI said "There is an unprecedented growth in Asia and Africa and AACCI is offering various platforms which offer opportunities of trade and investment".
Speaking at the event AACCI Founder & Chairman Dr. G.D Singh first thanked everyone for their presence. He also detailed about the accomplishment and the growth-oriented network that is developed by AACCI. Public-private partnership in the development of projects and more particularly, regional projects covering more than one AACCI-member country.
The newly appointed President India AACCI, and Former High Commissioner to Nigeria Mahesh Sachdev talked about the geographical connection of India & Africa.
Talked about the geo "As we all know that present India is a part of Gondwana Land that got drifting from Africa and when it collided with Asian plates, the Indian Peninsula came in existence."
Further Praising the efforts of AACCI he said "The global presence of AACCI is demonstrate their efforts. As myself has got this new responsibility of President India of AACCI, I too with my efforts trying to build up the organization. We would be to build up a hub of economic synergy in India & Africa.
The event was dedicated to the United Nations' Sustainable Development Goals 2030, appealing to all its participants to make a social impact by adhering to the 17 goals of UNSDG.
The event was graced by famous personalities like Bharat Ratna Mr. Bharat Goradia (USA) international promoter of Indian Art and Culture, Shibani Kashyap (Singer), Rabindra Narayan (President, PTC), Dr. Sandeep Bansal (Owner Pitaara channel), Dev Sharma (Actor), Surinder Shinda (Folk Singer), Roshan Prince (Actor/Singer), Sandhya Shetty (Celebrity Speaker), Preet Kamal (Actress), Geet Gambhir (Actress), Kuwar Virk (Singer/Rapper) Ameik Virk (Film Producer), Shabby (Music Video Director), Ragini Tandan (Singer), Vinod Yadav (Bhojpuri Actor) Mandeep Singh Chhatwal and many others.
The Passion Vista Glamour & Style Awards, Punjabi 2019 are aimed at Punjab Film Industry, popularly known as "Pollywood", a rapidly expanding and immensely creative film industry which has produced many films which have received international recognition & fame.