A Unique Midnight Republic Utsav Of K Ravi (Dada)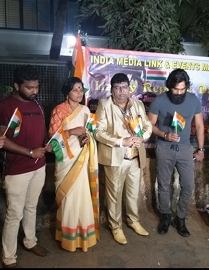 A Unique Midnight's Republic Utsav Of "K Ravi Dada"
Senior social worker and senior journalist Mr.K.Ravi (Dada) in Mumbai on Sunday, 26th January, through India Media Link Events Management, like every year outside Mumbai's Tata Cancer Hospital, this year too, the people cheering  Kia, a program for the delivery of blankets to cancer victims, on the occasion K Ravi (Dada), along with film actor Shakku Rana, film producers Joy Bhosle, Ismail Warsi, The  That are Pdnge, and actor Rahul Ravi Majud,
Let me tell you that India Media Link Management has been doing such a successful program for the last several years, K.K.  Ravi (Dada) said that people usually say that thousands of people die of cold, but we say that they also die due to lack of woolen clothes and blankets.  Poor and helpless people sleep in the open sky on the sidewalk and road and die of cold.  These poor people sleep close to each other during cold waves, but in such circumstances how can one sleep without a blanket or quilt.  They tremble all night due to the cold air and some old people even die due to these bogus, for such people, today we celebrate such a festival every year on the midnight of 26 January Republic Day.  Without having to wake them up, put a blanket over them and give them a well packed hot breakfast, bottle of water and an attractive flag.
In making this program a success, we have received from our benefactors in Mumbai, Mr. Sh.  Anand Vagralkar, Pradeep Badhey, and Shiva Bhandari, the owner of the famous Shiva Salon also supported.