ACTOR MAYANK SHEKHAR'S NEW SONG SWAG DI SAWARI RELEASED ON 20TH DECEMBER, 2019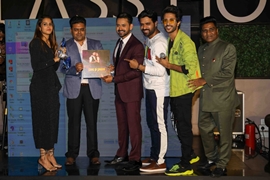 Music On- Vibe Music
"I want to be a full paisa vasool actor who can make audience say kya hero hai" says Mayank Shekhar" Hailing from Ranchi Jharkhand, Mayank who is slaying in his recent music video "SWAG DI SAWARI" opposite Riya Kishanchandani; Produced by Shashank Thakur; Composed & sung by Tirtharaj Gandhavi & Rapped by Gaurav Meena.
Talking about his song, Mayank said "Party season is on & Swag Di Sawari is our special offering to fans worldwide to enhance their party mood. Truly peppy and lively in its best sense we bet the song will be a part of your party playlist"
Insisting that his foray into the world of performing arts was not a flash-in-the-pan decision, Mayank says that it's his passion & love for the craft of acting which is the prime factor that attracts him to be a part of Bollywood "I came to Mumbai in 2016 & ever since I can remember, acting has not been a dream, it has been an obsession. It has always been about the role of hero  for me. You know what's the best part of acting , you become a different person, a different soul. Isn't it beautiful?"
On his journey to pursue his dreams, he spelled his brilliance in the show titled Return of School Days (2018) where he played the role of Abhishek Mukherjee, a much loved & popular character amongst the audience . He also did a television show Ankhee (2016) on Zoom Channel which gave him broader fan base.
Blame his appealing looks, the upfront ambitious actor has triumphed upon the hearts of millions working in print campaigns for elite brands like Reebok (2017), Casio Mens Watch & many more.
While Mayank poses all the elements to slip into any character with a lot of ease, he awaits good projects which will help bring out the actor in him and be the next big things in the industry.

"I want to have a very strong voice of my own in the entertainment business. This means if Mayank Shekhar does a film or a show, it has to be worth watching. I want people to say: "there goes a boy with no god father who established himself as one of the leading voices in today's world of films, it is his dedication & never-give-up attitude that got him there" adds Mayank.
His upcoming projects include Web series on Netflix in 2020.